Copyright 2022 Your Time For Creative Empowerment, Inc.

All Rights Reserved   Design: Madona Cole-Lacy    Long Island, New York       
[email protected]



   Arts * Fashion * Culture as Solutions for 21st Century Life Challenges & Pitfalls   






         Your comments and views

              are important to us.

Welcome to Creative Empowerment Arts Website 

      Your Time For Creative Empowerment, Inc.  Creative Empowerment Arts Contest  Gallery

A Helping Hand a short film written, directed and edited by Aly Brier (a/k/a Alexanna Brier-Finkelstein

                                                                                 Brier - A Short Film - "A Helping Hand"                  (12th grade - The Wheatley School)  $1000.00 College Scholarship Winner

A Helping Hand explores the idea that just one person can make a difference in saving someone's life. In one continuous shot, I attempted to visually capture the many social challenges and negative influences that bombard teenagers on a daily basis … from substance abuse, to peer pressure, to the stress of school work and standardized testing, to struggles at home and even thoughts of suicide. It is a kind, caring, empathetic friend who supports the central character at his most vulnerable moment, to be there for him and help him find his way out of his downward spiral.  

I faced both creative and practical challenges in the planning, shooting and editing of the film, due to using the one continuous shot structure. Since I did not allow myself the luxury of cutting and piecing together various takes in editing, this process resulted in a tremendous learning experience for me, as a developing filmmaker.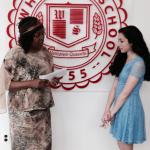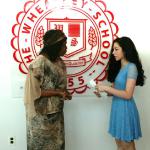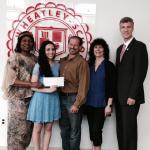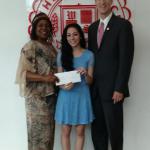 ​The Wheatley School Principal Dr. Sean Feeney, joins Founder/CEO Madona Cole-Lacy as she presents a college scholarship award to Creative Empowerment Arts Contest Winner Aly Brier. 

​Proud and supportive parents join Your Time For Creative Empowerment, Inc. Founder to celebrate daughter Aly.

​Alexanna Brier-Finkelstein (Aly Brier) received a $1000.00 college scholarship for the Fashion Institute of Technology where she will major in Film and Media .

​​

​Aly Brier is a senior at The Wheatley School who has been a working actor since age 10. She has performed principal and ensemble roles in Billy Elliot the Musical on Broadway and the Chitty Chitty Bang Bang National Tour, in addition to many short films, commercials, music videos and voiceovers. 

She is a proud member of SAG-AFTRA and AEA professional actors' unions. Recently, she has been exploring filmmaking from the other side of the camera and has been writing, directing and editing her own short films, as well as gaining experience through working on student film crews. 

Unfortunately, Aly is unable to attend tonight's gala. She is Vice President of her school's theatre company and it is opening night of their Fall Drama. Aly would like to thank her cast, crew and family for their talent and support and Creative Empowerment for providing a venue for teens to initiate positive change through artistic expression. 

 (Click on images to enlarge)